A Solution for Analysts. EiS presents GL Connect: a solution for financial analysts who depend on quick, accurate, on-demand data to get the job done.
With GL Connect, build reconciliations, on-demand analyses, financial reports, journal entries, budgets, and more – all with drill down capability! GL Connect enables analysts to utilize Microsoft Excel as their front-end reporting tool, integrating with Oracle EBS General Ledger. This allows financial statements and analyses to be quickly and easily created, while adhering to existing Oracle EBS Security. All reports and statements are automatically configured to your existing Oracle Chart of Accounts, segments, KFFs, DFFs, and Hierarchies. Features include:
Native Oracle E-Business Security
GL Balances and Drill Down to sub-ledger
Automatically Read Hierarchies
Convert Existing FSGs
Build Financial Statements
Upload & Share Templates
GL Cube for improved performance
Upload Journals and Budgets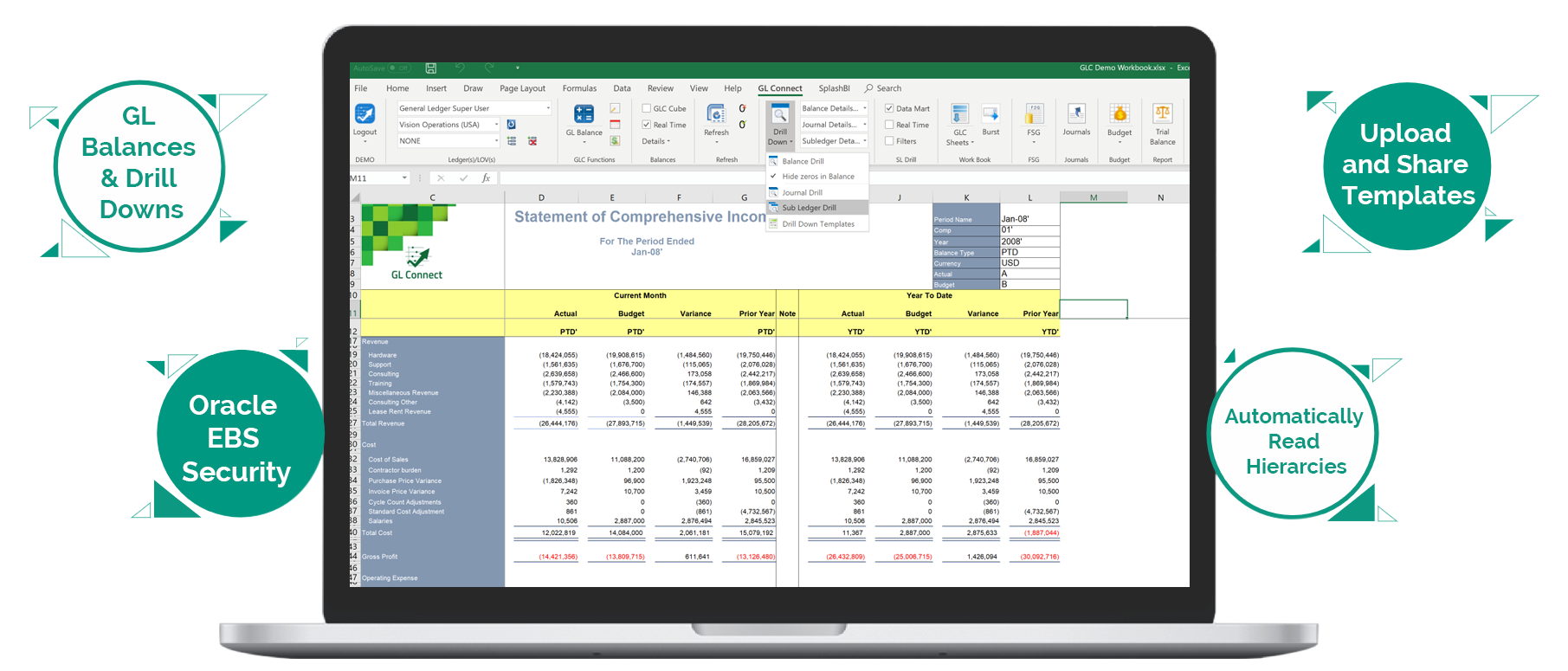 GL Connect can easily convert your existing Oracle FSG reports into Microsoft Excel workbooks. Once converted, users can quickly and easily research balances with GL Connect's drill-down capability, which allows deep dives into balances, journals, sub-ledger details, and more. GL Connect also honors Oracle EBS security, so data stays in safe hands. Refresh FSG's easily as often as needed to ensure your numbers are always up to date. Analyzing data is just a click-away…it's that easy!
Create Reconciliations & Analyses
During month end period close, one of the most tedious, but most necessary processes is the reconciliation and analyses of accounts. Pulling a trial balance, running the sub-ledger detail against the ledger, running more reports to see additional detail… it can all take precious time, and time is usually what you have the least of around month end.
With GL Connect, you can create your own reconciliation templates and upload them to share with your team. Refresh the balances as often as needed and easily drill down from the balance, to the journals, and all the way to the sub-ledger with just a few clicks. Ad-hoc queries are easy to build and can save you hours of running reports to get the information you need to close the books.
Budget Updates & Journal Uploads
GL Connect is a true one-stop-shop for your General Ledger team. Not only can it be used for reconciliations and analyses, but it can also handle your journal entries and budgets! Create your journal entry templates for your recurring entries and one-time adjustments quickly and easily. GL Connect will validate the entry and then upload it for approval using your organization's existing work-flows. Need to make a change to your budget, or maybe create next year's budget? GL Connect allows you to download your existing and upload it back to the system with your changes, or even create a brand-new budget.
Architect Financial Statements, reconciliations, and analyses quickly

and easily with GL Connect! Intelligent lookups pull existing chart of

accounts, hierarchies, periods, and more directly from the Oracle database,

with no need for manual intervention. Take any balance and drill back from the balance, to the journals, and even down to the sub-ledger! All with existing Oracle Security!
GL Connect also allows the ability to replace user's Oracle FSGs through the power of Microsoft Excel. Convert your existing FSGs into Excel spreadsheets with full drill down capability! Users also have the option to retire ADI, as GL Connect even has the ability to upload journal entries and budgets!