Transactional Reporting in Excel, What tool do most people use to analyze large amounts of data?
Microsoft Excel of course! With XL Connect, Microsoft Excel is utilized as a front-end for reporting against all Oracle E-Business Applications, while still maintaining Oracle user security. It also allows users to run, ad hoc, and build reports and dashboards within Microsoft Excel. And the best part? It allows users to easily refresh their reports time after time, while retaining all formatting, calculations, and more, saving valuable time during reporting periods! This takes running and analyzing reports from hours to minutes!
Leverages Oracle E-Business Suite Login Security.
Drill Downs Provide More Insight into Data.
Clean and Filtered Data & Pivot Tables.
Refresh Reports Easily.
Ad Hoc Functionality.
Create New Reports from Scratch.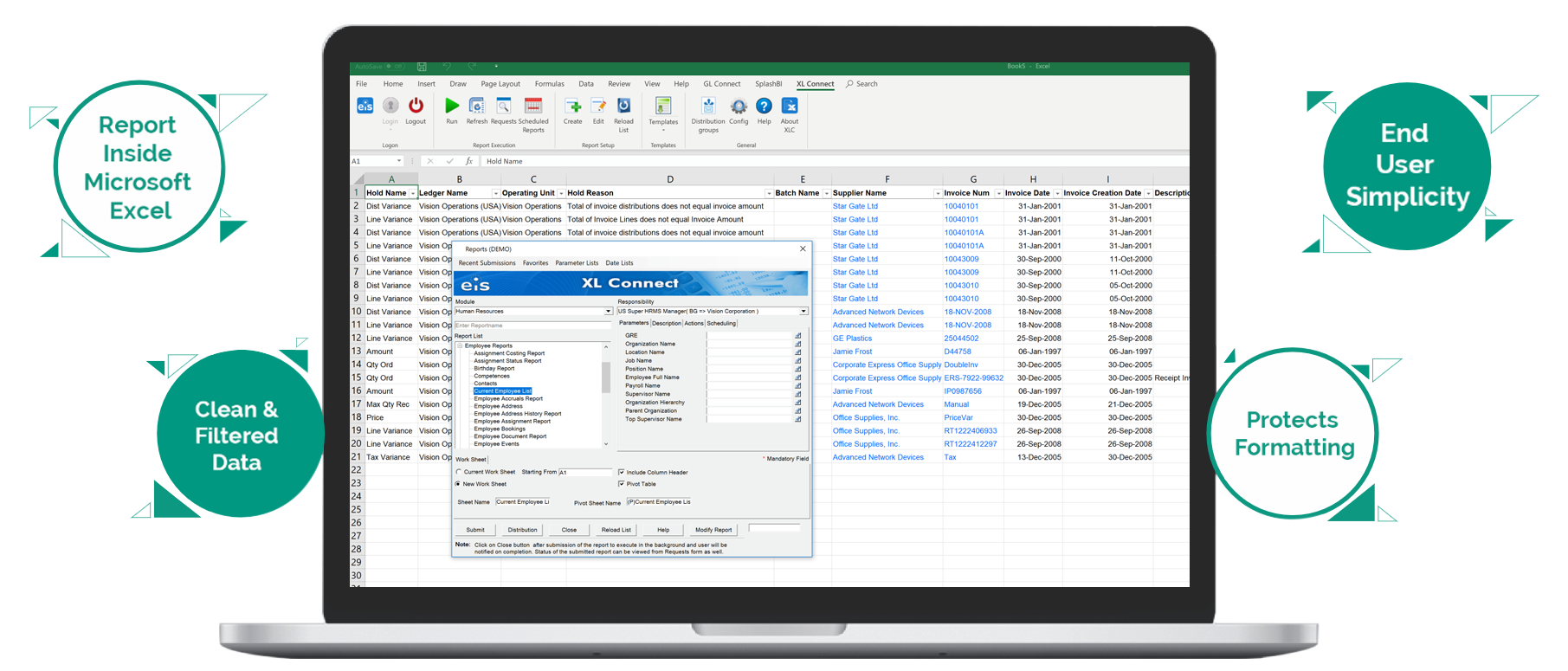 For many users, running reports across business areas within the same workbook is critical to make analysis and research more streamlined. For example, if a user is working on reconciliations between AP and AR against the General Ledger (GL), they would want to run reports from AP and AR to compare against a report from their GL. EiS XL Connect not only provides this capability, but also provides sub-ledger drill down built into the reports for better insights and faster reconciliations.
Formatting and analyzing reports every time you run a report is a thing of the past! With XL Connect, there is no need to recreate the wheel every time you need to pull in new data. Now you can refresh your data as often as you need, retaining all your formats, pivots, charts, formulas, and more! Not only does this reduce the chance of errors, but it can take reporting from hours down to minutes!
Scheduling & Distribution
Many times, there are reports that need to run daily, weekly, or even monthly. With XL Connect, users can setup a schedule for their reports and have them automatically run as often as needed. Additionally, distribution lists can be added for users or groups of users. Now that report your manager needs every Friday morning can be sitting in their inbox, ready to go while you enjoy your morning coffee.
EiS Technologies Suite of
Reporting Solutions for E-Business Suite

is fully validated by Oracle, and provides the its users

maximum reporting flexibility,

while still maintaining Oracle security.
Along with our library of more than 1300 seeded reports across Oracle modules, no other reporting solution offers the functionality, features, security, and ease-of-use of the EiS solutions.