EiS eXpress is the perfect solution for your Real-Time Transactional Reporting needs for Oracle E-Business Suite. EiS eXpress comes loaded with pre-built reports and views, utilizes 100% EBS security, and even allows you to run your reports directly in Microsoft Excel.
We understand the frustrations many users have with seeded EBS reporting, including the inability to export the report in a particular format or the need to ad hoc their report for additional information. With eXpress, users are empowered to make report changes themselves (without IT!) and provides many output options, including Excel, CSV, HTML, PDF, and more!
EiS eXpress version 8.0.4 can run on Oracle Database Appliance.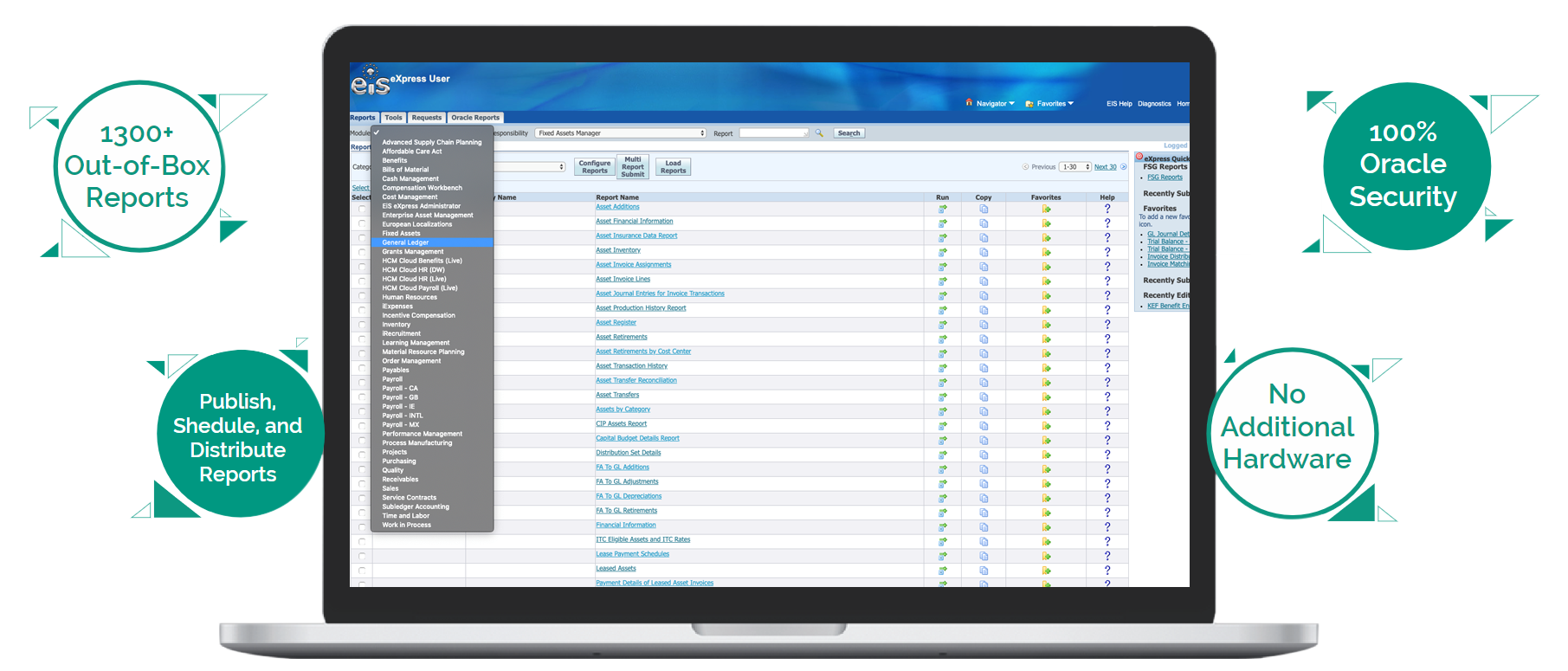 Automate Distribution & Scheduling
Running and emailing reports manually is a thing of the past! With EiS eXpress, users can setup reporting schedules, allowing them to create a reporting timetable to match their needs. This can be as simple as a one-time run, or a recurring daily, weekly, monthly, or even the last day of every month. Once the report is scheduled to run, a distribution list can easily be added, and can be set to a user, email address, or even a group of users, which reduces the amount of manual effort in the reporting process.
Combining these two functionalities will allow users to have reports waiting in their inbox, in the format they need it, exactly when they need it, without any additional work!
Simplicity of Ad Hoc Reporting
When it comes to adding additional necessary information to EBS reports, there is no easy way for end users to make changes themselves. Typically, the process requires putting in a request to IT, and hoping it gets done in a timely manner – which can hold up productivity and processes critical to the end user.
EiS empowers users to make those changes to their reports themselves, without pulling in IT. The eXpress tool allows users to easily add & remove columns, parameters, formats, pivots, plus much more.
When purchasing from EiS, end users are not just getting a beloved suite of tools; they are also acquiring a wealth of pre-built reports and views across modules and departments. EiS has partnered with many of our clients to develop new and valuable reports that benefit the entire client base.
Years of reporting expertise has allowed EiS to build a library of over 1,300 reports across more than 30 EBS modules. Using our content rather than their Oracle report counterparts ensures users get their reports in the format they need (Excel, PDF, CSV, etc.), plus provides that much needed ad hoc capability that Oracle reports lack. This eliminates frustration and inefficiencies for end users, especially during those reporting crunch times!
At
EiS Technologies,

we use best practices and a well thought-out plan for

your Salesforce

needs, and our team always strives to

implement a solution

that is 'done-right'!
Being a Salesforce customer ourselves, we relate to many pain points and requirements that come our way. Based on our own experience, as well as proven with our customers, our team of experts can help with a complete range of services and post implementation support.