Solutions for
Implementations
While EiS Technologies is known for our
Oracle EBS services,

our consultants have a successful track record of implementing many other software solutions for our clients, including

Salesforce, Taleo, Amazon Web Services, Cornerstone, RevPro, Hosting,

and many others.
We have a global support team which provides round the clock support, as well as a flexible onsite/offsite/offshore model to provide maximum flexibility to any project. However, the real secret to our success is really no secret – we have a great team of experienced professionals with skillsets across multiple platforms!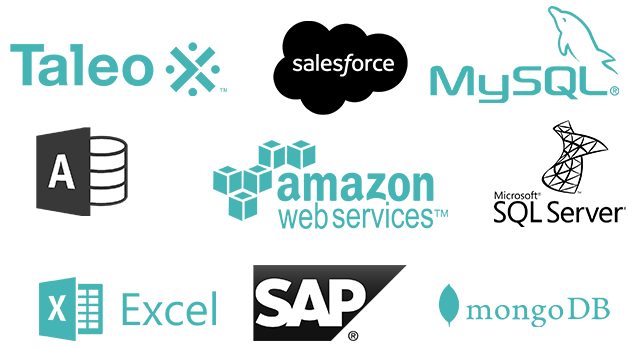 EiS has enjoyed great success with our Oracle software implementation. Some of our resources have been implementing Oracle and other products for over 25 years. We have seen the benefit that other products in the marketplace can help our customers and we have focused on some of these to add operational efficiency to our clients ecosystems. We also use some of these products internally, such as Salesforce, Taleo, SplashBI and integrations
EiS utilizes a flexible implementation method that fits within our client's culture and success model. We have used waterfall, agile, AIM, OUM, and many other methods to successfully implement solutions for our customers.
At the end of the day, the best methodology is the one that brings the project in on time, on budget and reaches or exceeds all expectations of the scope.
We do find common ground in many of the Methods we see in the marketplace and leverage our deep functional and technical skills to support the project team.
Maintaining an appropriately skilled IT department is one of the most important — and costly — components of any organization. Ensuring availability of necessary technical and niche skills for critical short-term projects can mean having these costly resources sit idle during periods of low demand. Also, in many cases building the necessary expertise internally can be difficult or costly.
Offshore has emerged as one solution for companies that are challenged with accurately forecasting their internal resource needs while maintaining cost thresholds. Offshore staff augmentation through EiS Technologies offers an effective, highly flexible solution.
EiS Technologies has been in the
Oracle E-Business environment

for nearly two decades, and has more experience across the

platforms and services

than nearly every other consulting company out there.
We are a preferred partner with Oracle and accompany them into many complex projects. Additionally, we are a certified integration partner with our reporting solutions, which means you will have peace of mind that our solutions are fully tested and validated by Oracle themselves. As a full-service provider of all things Oracle, you can trust that your projects will be done right the first time, and that we stand behind our clients as partners, trusted advisors, and friends.