E-Business Suite Advisory
Use Our
Insights & Avoid Surprises
EiS helps customers who are
planning

to or are about to

execute major IT initiatives

like ERP projects or upgrades.
Our advisory teams can listen to your story and offer insight to items you can expect and need to plan for our disciplined approach blends business process knowledge and technical skills to clearly articulate the initiatives that will optimize the use of existing technologies and optimize them with newer tools and approaches. We help organizations optimize their processes, achieve scale and consistency, improve productivity and operational performance, and enhance their ability to manage risk and compliance effectively.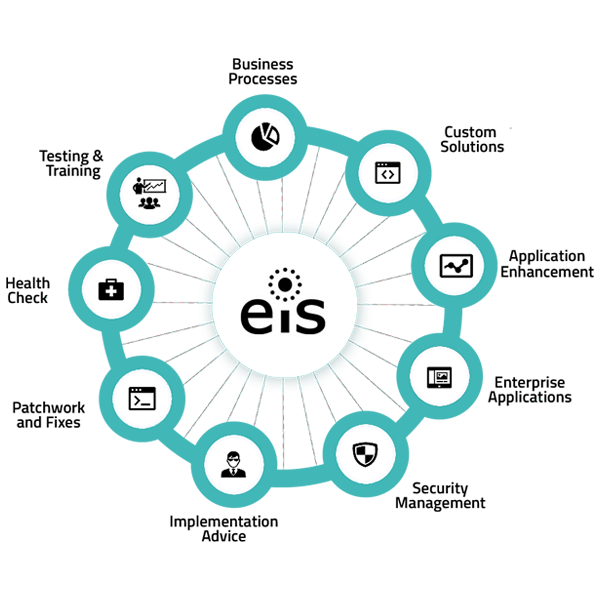 EiS advisory team can help organization in following areas:
Actual and expected use of enterprise applications
Integration tools and processes
Data Management
Value-based business solutions, enabled by technology, to cut through complex business problems and address specific needs.
Using a collaborative, multidisciplinary approach, we help drive business value and improve the return on technology investments by developing tailored solutions designed to harness the power of information across the enterprise.
We can also provide small and periodic health checks, that take care of the maintenance required to keep Oracle working efficiently. Our comprehensive subject matter expertise allows us to effectively assess pain points and analyze business processes, identifying opportunities for efficiencies beneficial to the whole organization.
EiS Technologies has been in the
Oracle E-Business environment

for nearly 2 decades, and has more experience across the

platforms and services

than nearly every other consulting company out there.
We are a preferred partner with Oracle and accompany them into many complex projects. Additionally, we are a certified integration partner with our reporting solutions, which means you will have peace of mind that our solutions are fully tested and validated by Oracle themselves. As a full-service provider of all things Oracle, you can trust that your projects will be done right the first time, and that we stand behind our clients as partners, trusted advisors, and friends.